Benefits
Auto Buying

Online Vehicle Shopping + Research Center
Visit the AutoSMART website and take the first step in helping yourself find a better deal on your next vehicle purchase. By taking advantage of the information and resources on the website, it's sure to make your auto buying experience easier and more satisfying.
Insurance: Homeowners, Auto, Life, AD&D

TruStage Insurance Agency
Members can save up to $427.96** on average with the TruStage Auto & Home Insurance Program. Combine auto and homeowners coverage and you could save even more. Restrictions apply see web site for complete details.
Balance Financial Fitness

Balance Financial Fitness
Are you interested in developing a workable spending and savings plan, getting out of debt, taking a look at your credit report, buying a home, or planning for your financial future? Free and confidential financial counseling and education is available through BALANCE.
Keep Your Home CA

Keep Your Home California
A free service for homeowners who have suffered a financial hardship - we may be able to help you stay in your homes, maintain an affordable mortgage payment and avoid foreclosure.
Special Offers and Discounts
TurboTax

TurboTax Tax Services
Members can save up to $15 on TurboTax online federal tax products with the credit union member discount through Love My Credit Union Rewards. TurboTax is America's #1 online tax preparation service.
H&R Block

H&R Block
Members can file in-person, via drop off or virtually. New clients save $25 and returning clients will get the Tax Identity Shield® add-on. Experienced tax pros with an average of 10 years' experience.
Discount Tickets

Discount Tickets
Through our partnerships with local theme parks and attractions, the Credit Union offers discount tickets to following:
Six Flags Discovery Kingdom
Six Flags Hurricane Harbor – Concord
California's Great America
The California Academy of Sciences
And MORE!
Access to discount Tickets and Vacation providers is now within our new Online Banking! Log in to your account, click on "Member Services" at the top, and then choose "Helpful Links".
Love My Credit Union Rewards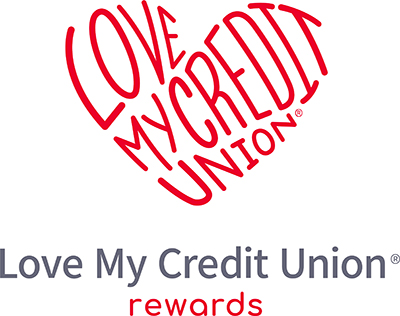 Love My Credit Union Rewards
Our one stop website at LoveMyCreditUnion.org offers exclusive, credit union member prices and rewards with popular programs like TurboTax, and more.
Vacation Packages

Get Away Today Vacation Packages
Since 1990, Get Away Today has helped more than 2 million people enjoy vacations to Disneyland® and beyond. Their great relationship with hotels and attractions has secured the lowest possible prices; saving you 20% - 50% per vacation! Plus, a portion of each booking is donated to Children's Miracle Network. Click the logo to visit the website.