Finally, a Home Equity Line of Credit that Truly Frees You!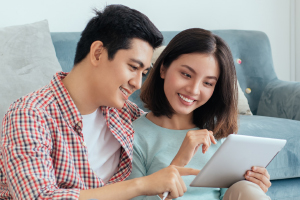 With a Home Equity Line of Credit from MAHPFCU, you can do just about anything, consolidate debt, make home improvements, pay for college, and more! And the best part, MAHPFCU has no annual fee, no application fee, and a free appraisal*.
We offer:
A 1% rate discount for the first year
Competitive low rates are tied to the Prime Rate**
Lines of credit from $10,000 up to $150,000†
Free application + no annual fee
Enjoy possible tax advantages (consult your tax advisor)
Be sure to check our current rates or call us at 925-524-LOAN (5626) today to see how a Home Equity Line of Credit Loan can benefit you!
*MAHPFCU will waive the application fee for all applicants. No annual fee. Appraisal fee will be collected at time of pre-approval and may vary from $600 to $1,500. APR=Annual Percentage Rate. Applicant must qualify for loan. Scheduled rate change dates occur on the 1st business day of January, April, July, and October. APR will never increase above 15.00%. Minimum advance of $10,000 is required at opening. Subsequent advances are a minimum of $500. Maximum number of advances per quarter is four (4). An early-termination fee of $500 applies if the loan is closed within the first 2 years. This offer is subject to other restrictions, terms, and conditions as stated by the Open-End Home Equity Credit Agreement & Truth-In-Lending Disclosure, copies of which are available from MAHPFCU. Rates and terms are subject to change without notice. Single unit owner occupied California residence only (single family residence, townhouse, or condominium). Adequate property insurance required for life of loan. Flood insurance may be required. **As of 7/27/2023, the Prime Rate (as published in the Wall Street Journal) is 8.50%. Floor rate is 3.000%. †80.01 - 90% CLTV for the $25,000 LOC; Up to 80% CLTV for $100,000 LOC; Up to 70% CLTV for $150,000 LOC